A lot of new geeky goodness for us to take in this week! Harley has a new movie, Constantine joins Justice League Action, Jeremy Irons talks and more!
New Mutants Movie
According to Le Journal de Montreal via Omega Underground, the next X-Men movie is going to be the rumored New Mutants movie directed by Josh Boone, now titled "X-Men: New Mutants".
In an interview with Creative Screenwriting the director talked a bit about how the whole project, which he will co-wrote with his childhood friend Knate Gwaltney, came to be.
"We had loved Bill Sienkiewicz's run with Chris Claremont that had Demon Bear. It was really dark, interesting, and different from the typical X-Men stories that we had read. After I made The Fault in Our Stars, we made Fox a comic book. It walked them through a trilogy of New Mutant films that would build on each other. We used this program called Comic Life, and took all the images we had loved from the series and strung them together to show them the movie we wanted to do. We brought it to Simon and he really liked it.
We've been going for the past year and a half to get it ready, and I'm about to go location scout and we have a release date now."
The rumored releasedate is in 2018 and it will be the first X-Men movie after 2017s Logan. To be honest, I don't really get why they would do a spin off movie based on New Mutants, if we haven't seen the main X-Men team together since 2002? I am talking Cyclops, Wolverine, Jean, Storm, Colossus, Nightcrawler and Xavier? Even the last main x-movies felt kinda like spin offs to me, as they only had most of the main X-Men in side roles. I kinda finally wanna get to the rebooted version of that team, before I see spin off's about other classes. Sigh. It's hard to be an x-fan today.
Jeremy Irons Talks Justice League And Alfred
Jeremy Irons is the newest, super talented british actor to play Bruce Wayne's faithful butler Alfred Pennyworth, in this years Batman v Superman Dawn of Justice. He will reprise the role in 2017's Justice League and the ben Affleck directed solo Batman movie in 2018. Talking to IGN he revealed some insight into Alfred's reaction to the Justice League, with whom Alfred will share the screen next year.
"I think he's waiting with baited breath to see what is going to happen. He's in the employ of Bruce Wayne and he doesn't always agree with him but I think he'll help where he can. And I'm not sure in Justice League we'll see that much of him because we have five superheroes to deal with and Alfred is just the batman [a term for the soldier-servant of a commissioned officer in the British military] of one of them. It'll be very interesting to see where he gets to, when we get to Ben [Affleck's] production of Batman this spring. I haven't read the script of it yet. I think all of us who are sort of normal human beings, which Alfred is, we watch the gods with amazement and some spite."
Over the years, the character of Alfred in the movies has always evolved. In the Burton movies he was very much just a Butler for Bruce, in Nolan's movies he became a partner in crime, who helped Bruce with planning and tactics, as this version hinted at having a military and mercenary background. Jeremy Irons' Alfred took that up a notch in BvS, with piloting the Batwing and actually working on the bat gadgets in the cave, as well as the Batmobile. JL will go even further and see Alfred taking aim through a gun on the JL's flying fox vehicle, according to reports from set.
IGN asked him about this version of Alfred and what he based it on.
"Yeah, Alfred is a very hands-on. What I based Alfred on really was a close neighbor of mine, used to be before he died, Paul Getty. I remember the first time I went to dinner with him. I reached gates and a very kind gentleman took my car and parked it. I walked in and another very kind gentleman took my coat. And then Paul showed us through the hall and another very kind gentleman gave me a glass of champagne and then a very kind gentleman served us dinner. I learned during the evening that every kind gentleman who had been taking care of me was actually an ex-SAS member who was there to protect Paul. I thought, yeah, that's Alfred really. He's there. He'll do anything. That's where he comes from. That's his mindset. He'll wash the dishes, but he'll also be a tail gunner."
He also gave his thoughts on the solo Batman movie, directed by Batman himself, Ben Affleck.
"I'm interested and I'd hold judgement until I read the script. We will see. Ben's a great consummate director and I'll be fascinated to see what he comes up with."
I really liked his take on the character, so I am excited to see more of him.
Justice League Action Clip
Justice League Action is the new DC Comics animated show, which is like a mix between Justice League Unlimited and Batman Brave And The Bold! Check out a new, exciting clip above, which introduces my favorite, chain smoking magician to the animated kids show world... which is a very weird and also awesome thing to see!
Harley Quinn Returns In Gotham City Sirens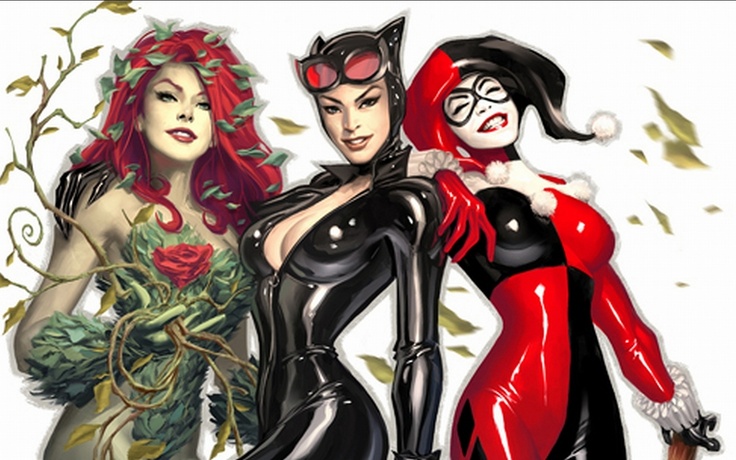 Harley Quinn had probably the biggest comic book character debut of 2016 (and that is saying something in a year that debuted Affleck's Batman, Black Panther, a new Spidey and Wonder Woman) in DC Comics Suicide Squad movie, directed by David Ayer. Now it has been confirmed that she will return, again played by Margot Robbie, in a fast tracked Gotham City Sirens movie also to be directed by Squad's David Ayer!
Ayer also tweeted out the hashtag #SirensForever with the picture above, which confirms the DC Films introduction of Catwoman and Poison Ivy. According to rumors Harley will start a relationship with Ivy in this movie as well, which leads to my theory of Jared Leto's Joker being probably used as the main villain, because there is no way to get from the Suicide Squad ending with Harley/Joker to Harley Ivy without showing what happened.
Overall this movie has me very excited, as it highlights two areas where DC is clearly the best comic company: female characters and villains! Can't wait to see what they'll do with this.
As a sidenote, a Suicide Squad sequel has been green lighted as well as a Deadshot spin off for Will Smith. No info yet on when those are planned to be shot and who will be attached on the creative side.
Patrick Wilson Cast As Ocean Master For Aquaman
Patrick Wilson (Conjuring's Ed Warren and Watchmen's Night Owl) has been cast as the main bad guy Ocean master for James Wan's Aquaman film, which is going to start shooting Spring 2017 in Australia! Ocean Master is Marius Orm, Aquaman's half brother, who will trouble Jason Momoa in his solo film!
Wilson also spoke a bit about his casting to WBT:
"What's gonna be interesting is there hasn't been the technology to back up the storytelling, I guess, for Aquaman... until now."
"And for me, of course, I'm completely biased with James Wan, who I've done four films with -- knowing that he's at the helm and knowing what he ... can do and what he will do, I'll do anything with him."
"I think the lure of Aquaman [is] because he hasn't been overexposed on screen. And I don't know Jason -- I can't wait to meet him. I was a huge fan even from the first episode of Game of Thrones, so I'm in -- I'm in with him, and he's gonna be fantastic."
I think he is a terrific actor and way underused by big blockbusters still, so seeing him in his second DC Comics role now, after his Watchmen role, is a great thing!